There are quite a few different sources of magnesium supplements on the market today.  From the different types of magnesium to the varying modes of delivery, the choices are prolific to say the least.
Check out some of the following articles which aim to breakdown the myriad of options into the very best choices for you.
There are also many supplements out there that combine a variety of vitamins and minerals that work together with the magic of magnesium to gain even further benefit to your health.  One of these such products is ZMA.
Have you ever heard of ZMA or have you wondered just what is ZMA for?  Continue reading to find out all the answers including what the most popular ZMA supplement
is on the market.
What is ZMA?
ZMA stands for Zinc Magnesium Aspartate and is a potent combination of Zinc Monomethionine Aspartate (30mg), Magnesium Aspartate (450mg) and Vitamin B6 (10.5mg).  It is most often used as a muscle recovery aid and studies show that ZMA helps the body achieve deeper levels of REM sleep. (source Wikipedia)
ZMA Supplements have gained a lot of popularity in recent years as a natural way to boost natural testosterone levels and increase muscle strength.
It also will provide you with an ultimate level of magnesium which has so many benefits listed here.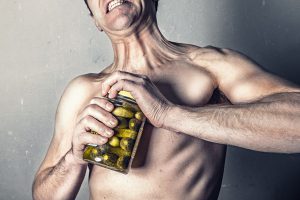 Zinc, similar to magnesium is an essential trace element that is required for many bodily processes.
It is involved in the activity of more than 300 enzymes which are responsible for the metabolisation of macronutrients and also the replication of cells in particular.  Zinc's functions effect exercise metabolism and levels are often found to be deficient in those who regularly train or exercise.
Low levels of zinc will lead to decreased performance. (source BioMed Central)
Magnesium is responsible for the smooth muscle and nerve function.  It is deeply involved in the functions of the body especially in its metabolic processes.  It is high functioning in the production of energy and is also able to facilitate decreasing levels of cortisol which is reported to be detrimental to muscle and strength gains.
Increased sweating and insufficient replacement of electrolytes lead to depletion of the body's magnesium and zinc.
People who exercise regularly are often deficient in these minerals without even knowing it, which then will have a detrimental effect on their training.
What is ZMA for?
The results seen with ZMA are remarkable in people who are using it as a way to increase muscle mass. One of the awesome benefits is the way it helps you sleep which gives you more energy during the daytime, as well as better opportunity for muscle repair.
When asking what is ZMA for, the answer can be found in the many positive effects it has.
The benefits are far and wide and may include:
Increase in muscle strength
Increased anabolic hormone levels (testosterone and IGF1)
Increased endurance
Improved muscle repair and growth
Restful sleep
Increased immune response
Better cognitive function
Who is ZMA For?
ZMA can be used by anyone who wants to think better, feel better, exercise better, sleep better and increase immunity.  
ZMA has most often been used by gymnasts, athletes, bodybuilders or sportspeople but its scope is beginning to expand to a bigger range of people who have symptoms of magnesium deficiency such as sleep disturbance.
Which Brand Should I Buy?
Optimum Nutrition ZMA is the top selling ZMA supplement on Amazon.  This would be a great additive to any health and fitness regime along with regular exercise and a balanced nutritious diet.  Check out the amazing reviews below: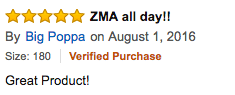 Click here to see more reviews from satisfied consumers.
Check out what The Supplement Professor has to say about ZMA:
The negative reviews are few and far between.  But they are mostly along the lines of having crazy dreams or some users claim not to notice any effect at all.
Click on the picture below to be taken directly to the information page on Amazon.
Dosage
The dose for this is 3 Optimum Nutrition ZMA Capsules
before bed for men, or 2 capsules for women.  ZMA should be taken about an hour before bed on an empty stomach to help synchronise absorption with your sleep.  ZMA must not be taken concurrently with any supplements containing calcium as this will block the absorption of zinc (American Journal of Clinical Nutrition) 
The combined effects of the zinc and magnesium induces a deeper REM sleep cycle which is why you would take it at night before bed for the best results.  The B6 dose encourages and facilitates the mineral uptake.
As with any nutritional supplement, please consult your doctor if your are under 18, pregnant or breastfeeding, are on medication, or have chronic disease prior to starting.
Price
Amazon sells  Optimum Nutrition ZMA, 180 Capsules
 for $20.18
Any Negatives?
Many customers report lucid dreams and this is due to the deep level of sleep.  Also some men report waking up with an erection which may or may not be considered a negative effect.
Amazon will only ship this product within the US.
Further Reading
Have a look below for further information on some of the other commonly available forms of magnesium:
Comment Below
Now that you know exactly what is ZMA for, it's time for some feedback.
Have you ever tried ZMA?  What did it do for you?  Please leave a comment below.
DISCLAIMER The author of this article is not a doctor and the medical/dietary advice that is provided herein is not to replace users of the sites current medical situation or advice that may have been given by their GP or legal consultant.  Whatismagnesiumdeficiency.com is here solely for support as an optional alternative.  In no way does the information contained within www.whatismagnesiumdeficiency.com advise anyone to use this knowledge as a replacement for any medical condition.