Magnesium is responsible for giving you energy.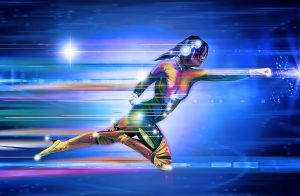 In short, when you have low magnesium, you have lower levels of energy.  When your magnesium intake is sufficient however, you have optimum energy levels.
Read on to discover more about the relationship between magnesium and energy, how to identify a magnesium deficiency, as well as some well known and very useful ways to increase your magnesium intake.
75% of Americans are at great risk of magnesium deficiency.  The simple fact is that people are unable to get enough magnesium in their diets which may be full of refined sugars, processed foods, caffeine or alcohol and low in wholefoods.
Add to this a myriad of risk factors which are known to deplete your body's natural magnesium stores much faster than usual:
Physical or emotional stress or trauma

Chronic absorption disorder such as Chrohn's

Kidney or liver disease

Diabetes

Poor diet

Overuse of calcium supplements

Certain medications such as diuretics, ACE inhibitors, hormone therapy or antihypertensives

High intake of carbonated drinks, caffeine, refined sugars or alcohol
One of the classic tell tale symptoms for magnesium deficiency is fatigue or tiredness.  It is here that we are able to identify and explain the relationship between magnesium and energy.
Please have a look at the article below to find out if you have any of the other symptoms of deficiency and what to do about it.
ATP is Energy
ATP or, adenosine tri-phosphate is the molecule responsible for providing our body with energy.  And without magnesium, the processes required for ATP's production, would not be able to occur leaving us with a big hole in our energy supply.
Magnesium and Energy
ATP is created by the breakdown of complex carbohydrates, fats and sugars into usable molecules such as glucose, fructose and fatty acids.  Magnesium is the vital ingredient here as the co-factor for the enzymatic function which does the breaking down at this level.
What is ATP used for?
Our body is made up of cells, the building blocks of life.  These cells are continually reproducing themselves at a high turnover rate as old cells die and need to be replaces.  ATP is is involved in millions of processes at a cellular level.  These include:
Cell replication

Metabolisation

Protein synthesis

Movement of molecules

DNA synthesis
All of these functions are what serve to give us the energy to fulfil our busy day-to-day lives.  You can imagine that the more energy we use, the more ATP we need and the more ATP we need, the more magnesium is required in order to make it.  So magnesium and energy are inextricably linked.
People who do a lot of exercise and who are continually using up their ATP and also their stored magnesium to constantly make more energy are usually magnesium deficient for this reason.
The body is able to continually process more and more ATP as it is always needed at a cellular level.
One of the really important jobs ATP does is to facilitate the transportation of molecules across the cell membrane in order to maintain a balance of our electrolytes.
The 4 electrolytes are magnesium, calcium, potassium and sodium and they are constantly moving between our intracellular and extracellular fluids depending on our current condition.  Magnesium and energy are needed for maintaining the ideal equilibrium between the electrolytes as the ATP gives the molecules the power to move, and the magnesium is responsible for opening the channels in the cell membrane for the molecules to pass through.
Magnesium and energy are also related via sleep.  
Magnesium has a relaxation effect on the body.  It is able to relax muscles and decrease anxiety helping the user to achieve a greater level of more deep REM sleep.  Being well rested is important in reducing fatigue and tiredness for the coming day so not only do magnesium and energy effect each other at a cellular level, but magnesium is also important in the way it gives you better sleep and therefore more energy.
How do I know if I am lacking in magnesium?
The answer is a clear one.  If your magnesium levels are less than ideal, you will be feeling tired and lacking energy for a start.
Some other telltale signs of magnesium deficiency are:
Sleep disturbance

High blood pressure

Fatigue

Muscle cramps

Muscle spasms or twitches

Nausea

Lack of appetite

Tremors

Anxiety

Heart palpitations
For more on magnesium deficiency symptoms click here.
How do I get more magnesium?
Food sources alone are usually inadequate to provide the required 320mg – 420mg per day of magnesium.  Eliminating risk factors of refined sugars, alcohol and caffeine are a great place to start.  Then have a look at this magnesium rich food list which can assist in giving you some ideas of the types of foods you should be consuming.
Some of the foods rich in magnesium and energy include:
Whole grains

Nuts and seeds

Legumes

Fish

Green leafy vegetables
Despite a nutritious diet, we may still need further magnesium supplementation in order to meet our daily needs.
There are a lot of different options for supplement use.  As with any complementary therapy, please consult your doctor before commencing if you are under 18, are pregnant or breastfeeding, are on any medication, or suffer chronic disease.
The options for magnesium supplements include:
Magnesium sulphate bath salts

Magnesium glycinate
Here are some of the best supplements outlined in this article –  >CLICK HERE<
For the top 3 most convenient and easy to use supplements  – >CLICK HERE<
Comment Below
Do you have any experience with magnesium deficiency?  If so then we would love to hear from you.
Comment below or drop us an email – info@whatismagnesiumdeficiency.com today!
DISCLAIMER The author of this article is not a doctor and the medical/dietary advice that is provided herein is not to replace users of the sites current medical situation or advice that may have been given by their GP or legal consultant.  Whatismagnesiumdeficiency.com is here solely for support as an optional alternative.  In no way does the information contained within www.whatismagnesiumdeficiency.com advise anyone to use this knowledge as a replacement for any medical condition.