Magnesium deficiency is a huge problem affecting 75% of Americans today.
Risk factors including obesity, diabetes, certain medications, a diet high in refined sugar, high intake of caffeine or alcohol, or physical and emotional stress are all things that can deplete our body's stored magnesium even further.
Compounding this is the fact that we are often unable to get the 320-420mg of magnesium per day that is required from our diet alone due to the reduction of magnesium that used to be in the soil, and we have a real problem.
Have a look at the list of magnesium rich foods found here and add up your estimated magnesium intake to see if you are getting enough.
If you have already checked out the symptoms of magnesium deficiency and think that you may be at risk of deficiency despite having a healthy balanced diet, then the next step is choosing the right supplement for you.  Some of the best magnesium supplements have already been listed here.
The best rated magnesium supplements on this list are my top 3 most convenient.
When choosing a supplement, there are so many different forms and modes available that it may be difficult to pick the right one first time.  Some factors to consider include:
Convenience

Cost

Mode of delivery (tablet/powder/liquid vs oil/lotion/bath soak)

Bioavailability – how much of the dose you take is actually used by your body

Severity of symptoms of deficiency
These top 3 best rated magnesium supplements are at the top of their game for the easiest administration with the highest bioavailability.  For further information on these supplements please click on the links below to be taken to their place of purchase.
Please consult a doctor or pharmacist prior to starting any kind of magnesium therapy if you are pregnant or breastfeeding, have kidney, liver or gut disease, or are on any type of medication as these factors may influence your magnesium absorption.
Best Rated Magnesium Supplements for Convenience
This convenient magnesium supplement is magnesium citrate in the form of an easily absorbable powder.  The powder is pleasant tasting with a nice raspberry and lemon flavour so is very easily palatable, and it dissolves into water which is then immediately assimilated into the body and into the cells where it is needed.
Dosage
The dosage instructions state to start off slowly and consume up to 2 teaspoons per day for 325mg of elemental magnesium.
Pros
The powder form makes it very easy to take once or twice per day.
It tastes nice and is available in a variety of flavours
High bioavailability
Organic, vegan and verified non-GMO
For added convenience, this best rated magnesium supplement is also available in a 30 Pack Individual Serve
 box as well as the  16 oz bottle
.
Cons
Diarrhoea is known to be a common side effect of magnesium citrate use so it is recommended to start off slowly with your dose and spread it out throughout the day i.e. 1 teaspoon in the morning, and 1 at night.  If your bowels are getting looser, then you know you are getting enough magnesium.
For more information on magnesium citrate, click here.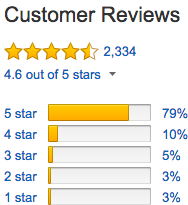 Reviews
79% of  Amazon
 customers have given this product an overall 5 star rating which makes it one of the top selling magnesium supplements available.

Price
Natural Vitality Natural Calm Magnesium Anti-Stress 16oz
 – $24.57
Natural Vitality Natural Calm Anti Stress Drink 30 Individual Sachets
 – $14.99
Best Rated Magnesium Supplements for Convenience
Learn more about magnesium oils here.
Ancient Minerals Ultra Pure magnesium Oil 8 oz. is an all natural, unscented topical magnesium supplement made from
nothing but pure magnesium sourced from the ancient Zechstein Seabed.  The convenience of simply rubbing or spraying magnesium directly onto your skin is hard to beat.
This is not actually an oil, but a highly saturated water so it doesn't leave any oily or sticky residue after application.
Regular use of this oil allows the magnesium chloride to absorb directly into your skin and it is not metabolised which means more of the magnesium is available for your use.
Topical application of magnesium is especially good for improvement of a variety of symptoms including muscle aches and tension, cramps, stress and anxiety.  Studies have proven that getting your magnesium by this convenient spray bottle mode of delivery allows the body to have much more control over what it actually uses.
Dosage
Spray the Ancient Minerals Magnesium Oil
directly onto the skin, especially targeting sore muscles as well as softer skin areas such as the inner arm and behind the knee in order to facilitate greater absorption.  8 sprays gives you a dose of 100mg of magnesium chloride.  Then wash it off after 20 minutes.
Pros
Convenient spray on method
No GI disturbance from swallowing tablets or powder
Pure organically sourced
Only absorb what you need
Cons
Some people experience itchiness
Reviews
Of the 761 reviews on Amazon, it has been given an overall 4 star rating.  People usually love the ease and effectiveness of the Ancient Minerals Oils.  The negative reviews are mainly due to skin complaints as some customers experienced an itch or tingling sensation after application.  It is recommended that if you have sensitive skin, you gradually introduce your skin to this product to reduce the tingling.  Some people even dilute it 50:50 with water and then double the dose used.
Price
Ancient Minerals Magnesium Oil 8 oz.
 – $18.80
Ancient Minerals Magnesium Oil 64oz. refill
 – $84.00
Best Rated Magnesium Supplements for Convenience
This super supplement is in a tablet form of magnesium glycinate which is chelated (joined) with the amino acids glycine and lysine which helps to achieve greater bioavailability.  The chelation creates protection for the magnesium molecules by attaching them to amino acid molecules which means they reach to small intestine before metabolisation and absorption
Dosage
2 tablets twice a day.  This may sound like a lot, however due to the fact that this supplement is not mixed with other cheaper magnesium compounds, the mass required for higher dosage is larger.
Pros
High dose of 200mg elemental magnesium
Chelation means high level of bioavailability
Vegan, non- GMO, gluten free
Not buffered which means it is not mixed with less suitable forms of magnesium
Cons
The large tablets may be hard to swallow for some.  Customers who bought these tablets frequently cut them in half.  For further convenience, this product is also available in a Powder Form.
Nausea can be a side-effect
Reviews
Amazon customers are generally very happy with this product.  Some customers who bought this product did not like the big pill size, and also complained of an odd taste.  Others report nil improvement in their health.  As with all the supplements recommended here and on linked websites, please consult your doctor if you are pregnant or breastfeeding, have chronic liver, kidney, or gut disease, suffer from diabetes, or are on any medication prior to commencing therapy.
Price
Doctor's Best High Absorption Magnesium (200 Mg Elemental) 240 tablets
 – $15.38
DISCLAIMER The author of this article is not a doctor and the medical/dietary advice that is provided herein is not to replace users of the sites current medical situation or advice that may have been given by their GP or legal consultant.  Whatismagnesiumdeficiency.com is here solely for support as an optional alternative.  In no way does the information contained withinwww.whatismagnesiumdeficiency.com advise anyone to use this knowledge as a replacement for any medical condition.